I have always loved the classic school look. It is so easy! All you need is a neutral blouse and skirt, high socks, and a touch of plaid. When Vera Bradley sent me this adorable plaid backpack I knew that I wanted to style an outfit around it that fit in a late 1960s early 1970s school style.
1970s School Style Inspiration Photos:
"Teenage girls dressed like ladies for school throughout much of the '60s. They wore knee-length, pleated wool skirts in dark colors or patterns such as navy or plaid, and wore conservative white blouses…"

Source: oureverdaylife
The Elements: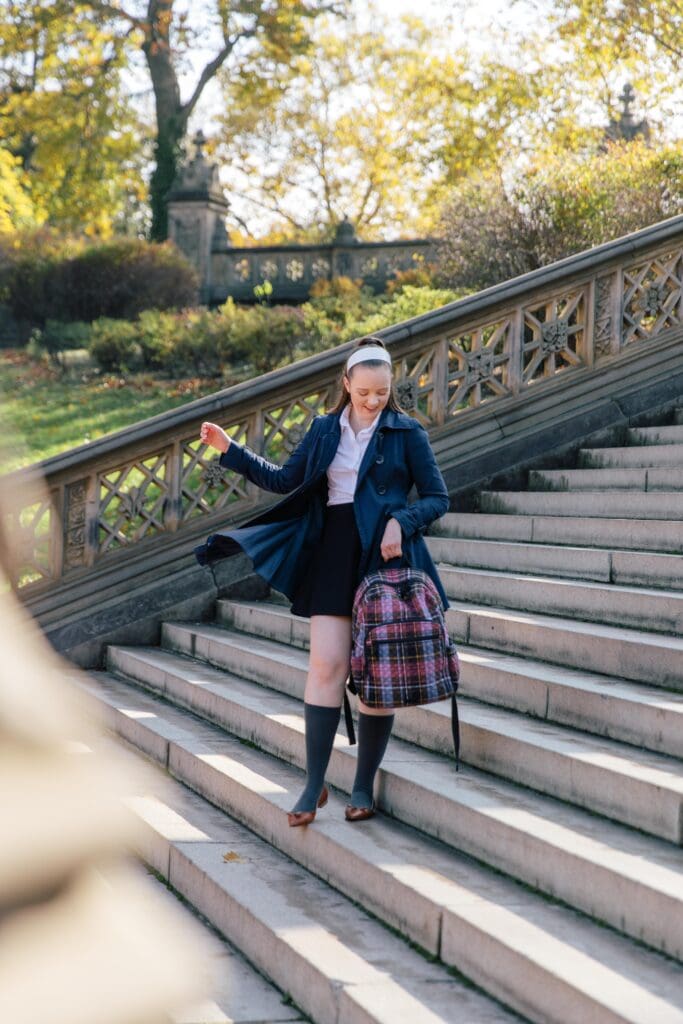 How I incorporated the elements of 1960s / 1970s school style that I was drawn to:
White blouse – Deciding that the plaid backpack would be the centerpiece made picking a blouse easy. I love all the jewel toned blouses the women are wearing in the inspiration photos, but I felt that it wouldn't allow the backpack to standout in the way I wanted.
Dark skirt – The plaid skirts in the inspiration photos are adorable. Instead I went with black to not clash with the backpack. My skirt also modernizes the outfit a bit with it's short length and stretch material.
Plaid – This was covered with my plaid Vera Bradley backpack. The backpack is perfect for New York. It is a great size with lots of pockets for all the different things you need running around the city on a busy.
Navy – Wanting to make the outfit warm enough for a cool fall day I wore my Navy trench.
High waisted socks and Mary Jane's – I went with my high gray socks and timeless brown leather Sarah Flint Flats since I don't own any Mary Jane's.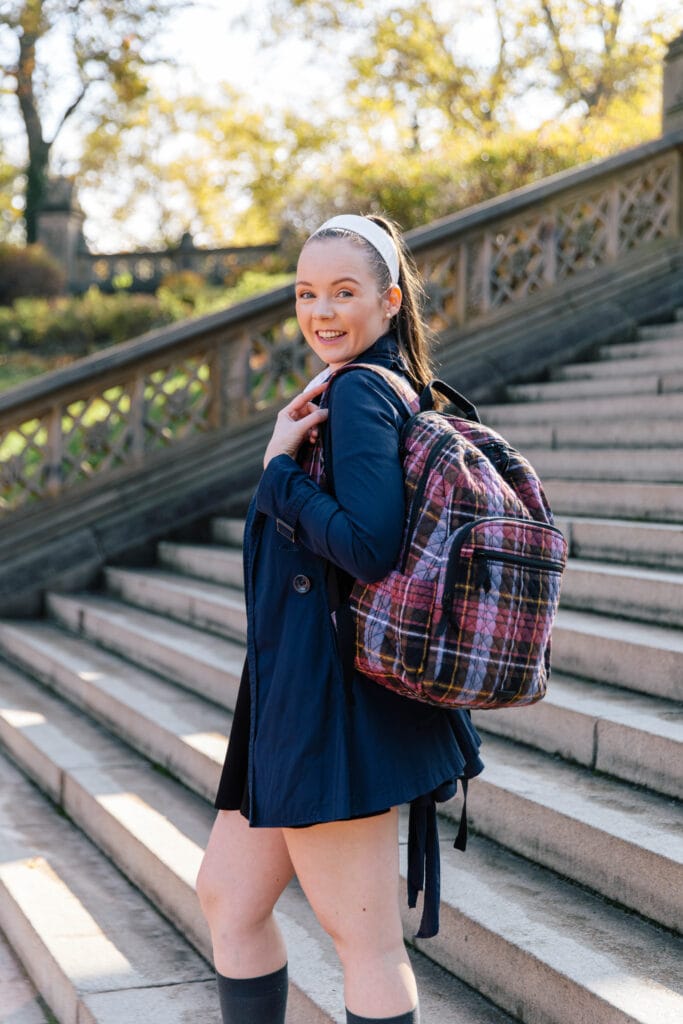 Affordability with basics:
What I love most about this outfit and style is that, with the exception of the backpack, I already owned all the pieces. They are staples in my wardrobe. I have worn them in all sorts of ways, inspired by a variety of decades. No closet is complete without a white cotton blouse, black circle skirt, and brown leather flats.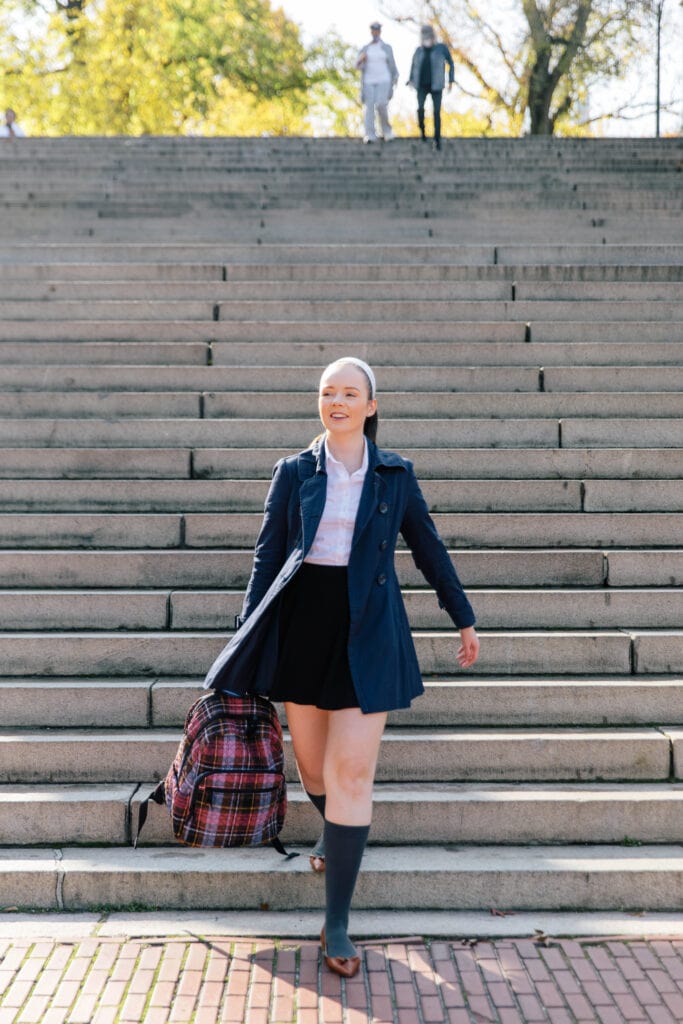 I threw my hair in a high pony with a white plastic headband to keep with the school theme and late 1960s early 1970s school style.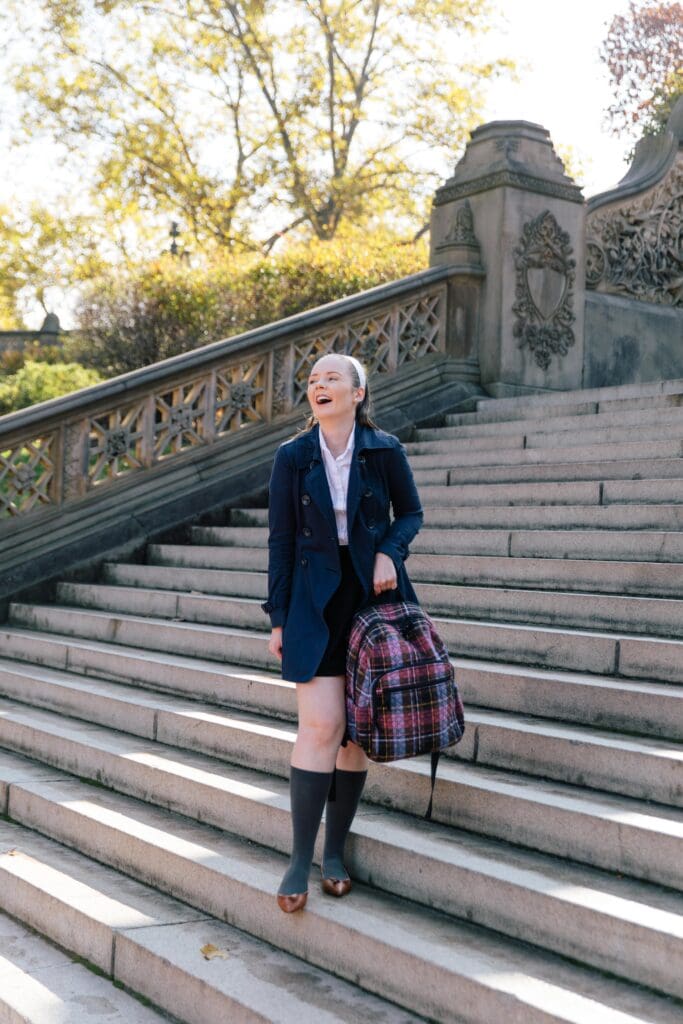 Outfit Details:
---
Photos by Allie Provost; pretaprovost.com