One of my weaknesses is that whenever I see a fit and flare dress I immediately think 1950s! Not that this is necessarily a bad thing haha, but when I decided to style this Gal Meets Glam original I decided I wanted to challenge myself. With a little out of the box thinking I used a vintage sewing pattern to style this dark aqua formal 80s dress lewk.
Inspiration photo:
Using the dress as my base I searched Pinterest for "1980's formal dress" and found this vintage Vogue pattern. I decided on it because of the color of the dark aqua dress on the left and cut of the pink dress on the right. I used elements of each outfit to inspire my lewk.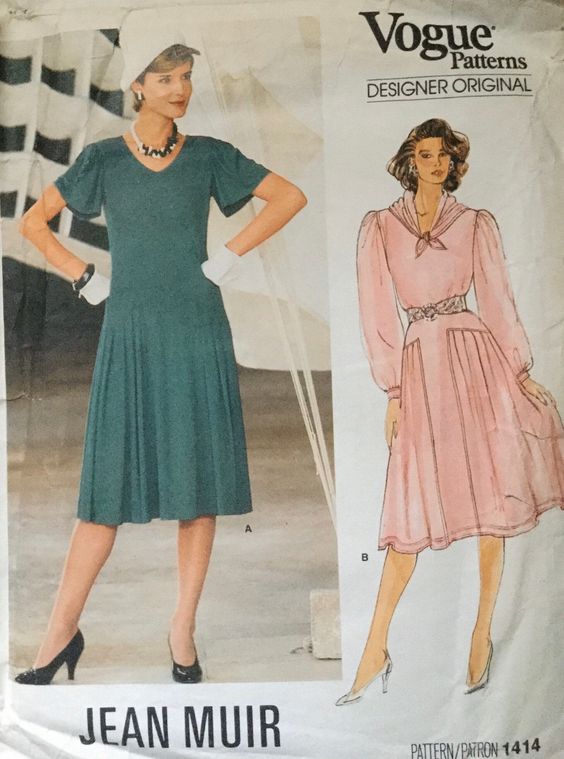 TIP: Sewing pattern inspiration hack:
Sometimes when I am looking for inspiration, when I already have a particular piece of clothing in mind, it can be tricky. From time to time when searching a decade I will keep getting images of stereotypical, almost caricaturized, outfits from the time. Or if I search for the type of clothing I'll only get images of current clothes for sale in that style.
Where my eye was drawn: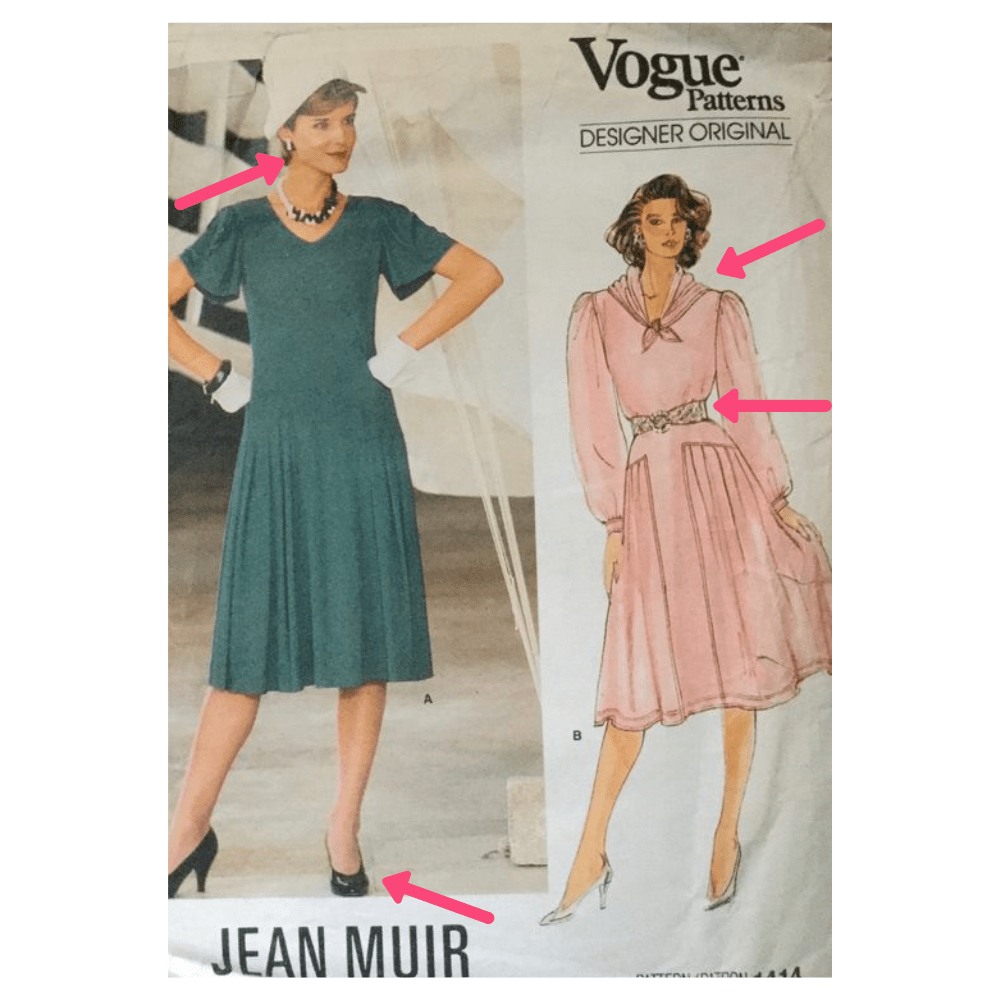 Simple stud earrings
Scarf top
Belt
Neutral pumps
Using the elements to put this dark aqua formal 80s dress lewk together:
Simple stud earrings: To keep the lewk more contemporary I wore my simple white pearl studs.
Scarf top: One of the reasons I choose the inspiration image was I loved the scarfed top of the pink dress. To contrast the color of the dark aqua formal 80s dress I choose a bright red silk scarf.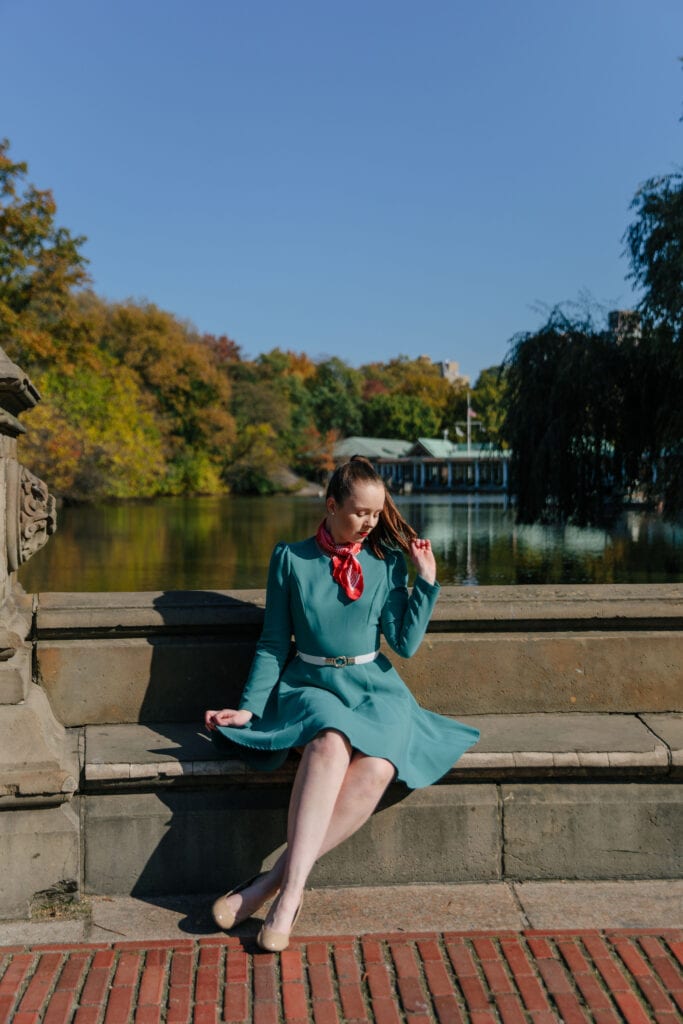 Belt: I love how the belt brakes up the pink dress. I decided on a white clasp belt to achieve this. I liked how it had a similar design of the belt on the pink dress and echoed the white gloves and hat of the green dress on the left on the pattern.
Neutral pumps: Initially I tried the outfit with black pumps, like the green dress outfit from the pattern, and really wasn't feeling it. There was something kind of jolting to me about it. I chose tan since it is still a neutral color and meshes better with the dark aqua, red, and white colors.
Finishing touches:
Hair: Wanting to get my hair out of my face, show of the scarf, and modernize the lewk I put my hair into a high ponytail.
Make up: With the lush jewel tone dark aqua and red colors I went with a bright red lip so I still stood out.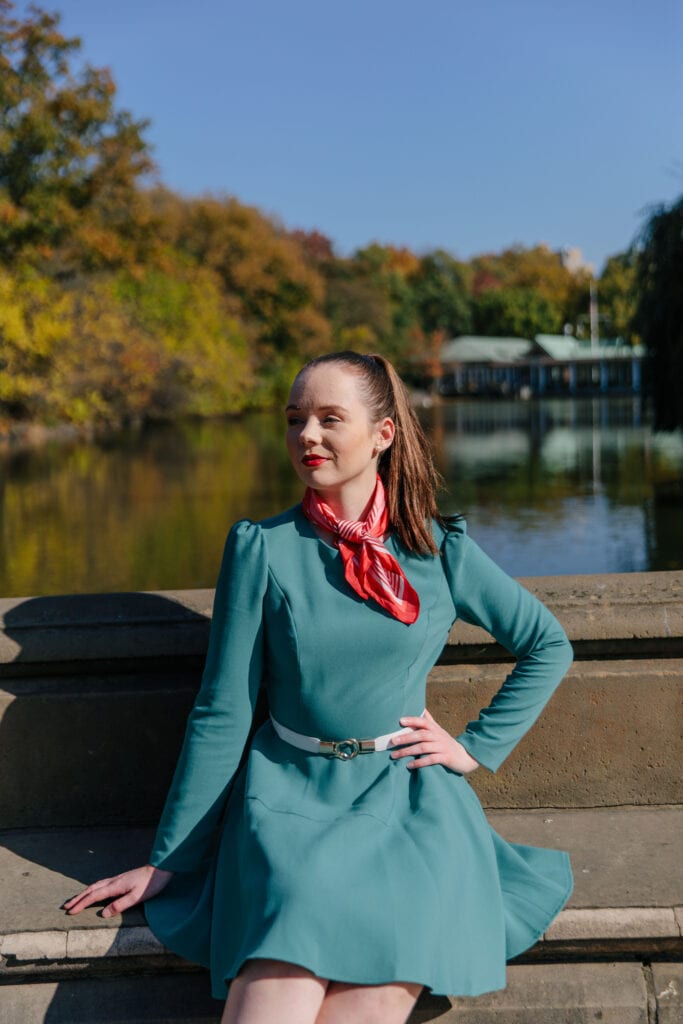 TIP: Balance of well-made vs. cheap:
I am all about affordable style, but to me that doesn't necessarily mean cheap. To me it means striving for a balance of pieces that are well-made, but more pricy, and pieces that are inexpensive but won't last.
I was so sad when the Gal Meets Glam dress line was discontinued. Julia Berolzheimer had an incredible talent for designing timeless dresses that were incredibly well-made and built to last for around $100 to $200. (Side note: If you spot a Gal Meets Glam piece for sale that you like on Poshmark or elsewhere, buy it! You won't be sorry.)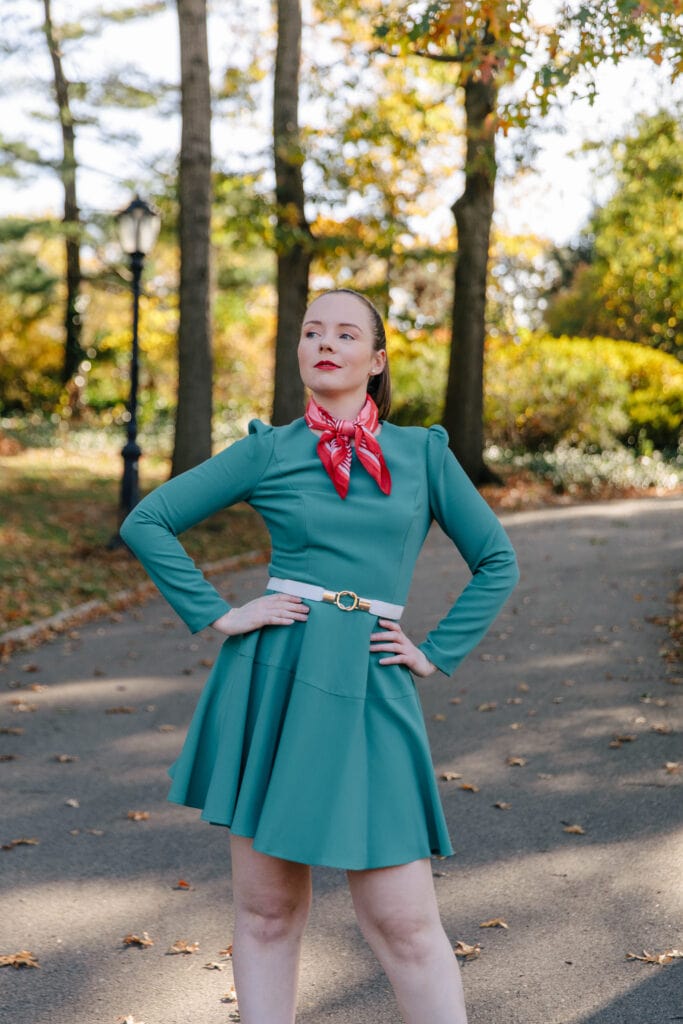 In general I only spend $100+ on any piece of clothing if I believe it is timeless and built to last. Since this dress was more expensive I went cheap with the other accessories. The scarf I got on sale from Banana Republic and belt from Amazon. The nude pumps I have had since 2014.
Outfit Details:
---
Photos by Allie Provost; pretaprovost.com