I love a black and white photo. I feel like there is a sense of mystery when I see one. I often think thoughts like "hmm I wonder what color her eyes were, what the color of her dress was, and also how she saw the world." Black and white white photos are one of my favorite sources of inspiration because it forces me to not use the colors of the photo to put together the outfit. I used this technique to put together my Navy and Argyle Winter Lewk.
Inspiration photo:
I knew I wanted to build this outfit around a navy cardigan I already owned so I searched Pinterest for "vintage cardigan ad" and found the 1940s photo below.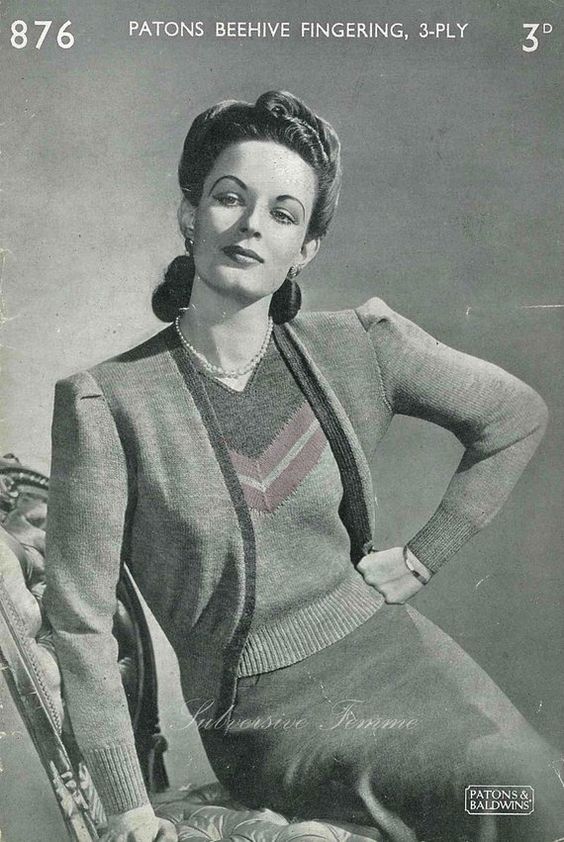 Where my eye was drawn: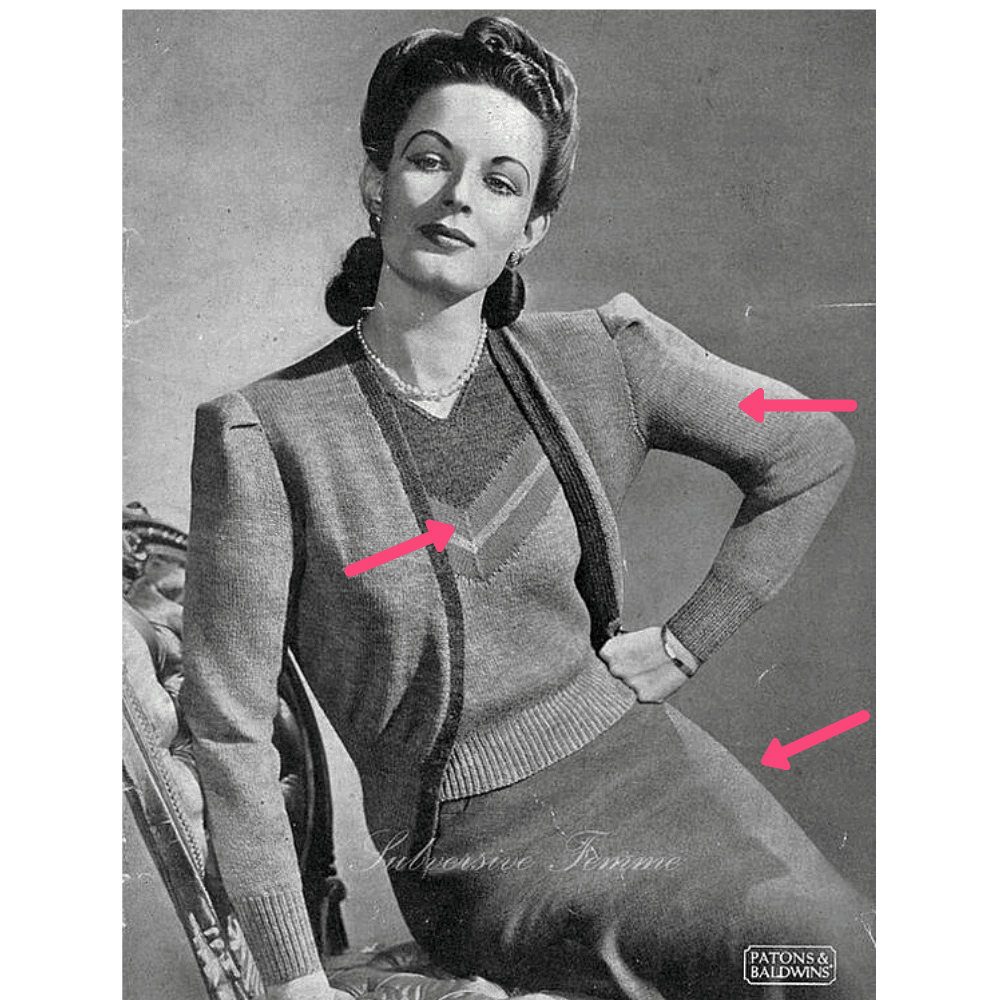 Cropped cardigan
Chevron sweater
Plain skirt
Styling Trick: Using textures and patterns
Since it is impossible to tell the exact colors of a black and white photo I use the textures and patterns to inspire the outfit. I like to think of black and white photos as more of a general guide than an opportunity to match the outfit exactly. I like to look at the general types of pieces the subject in the photo is wearing and then think about how I can incorporate a similar balance of textures and patterns.
Using the elements to put this Navy and Argyle Winter Lewk together: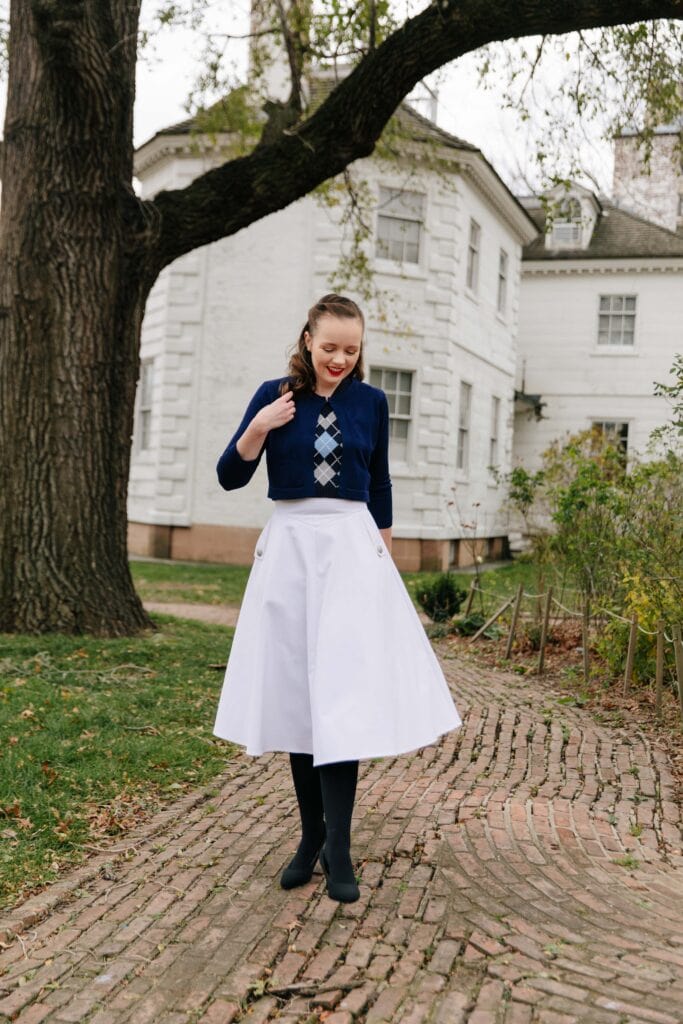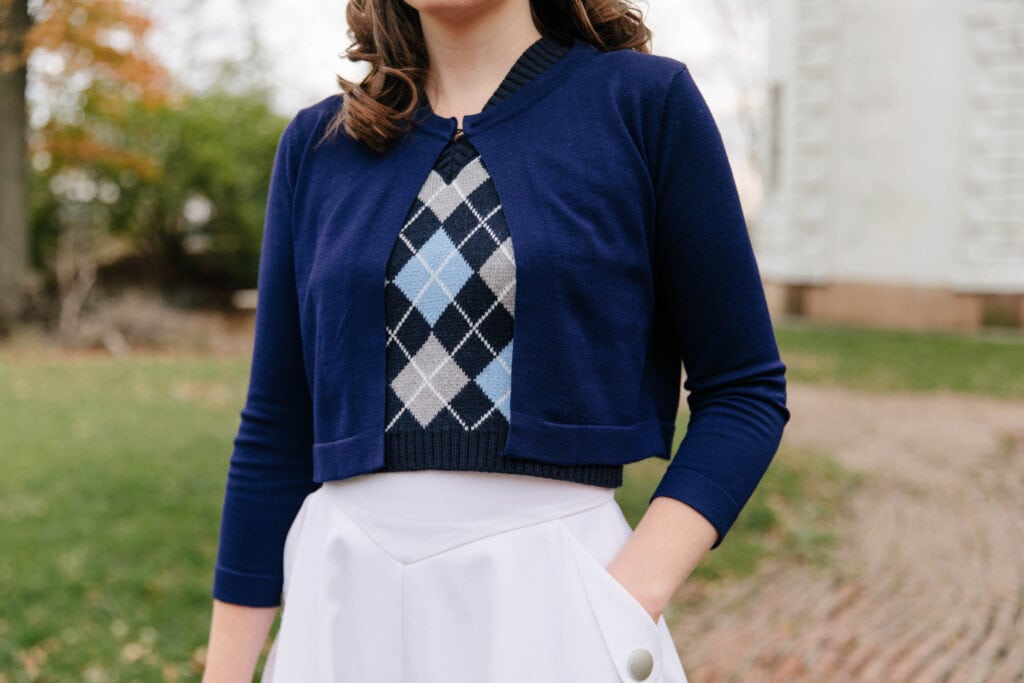 Cropped cardigan: This whole process started with my navy cardigan with hook & eye closure.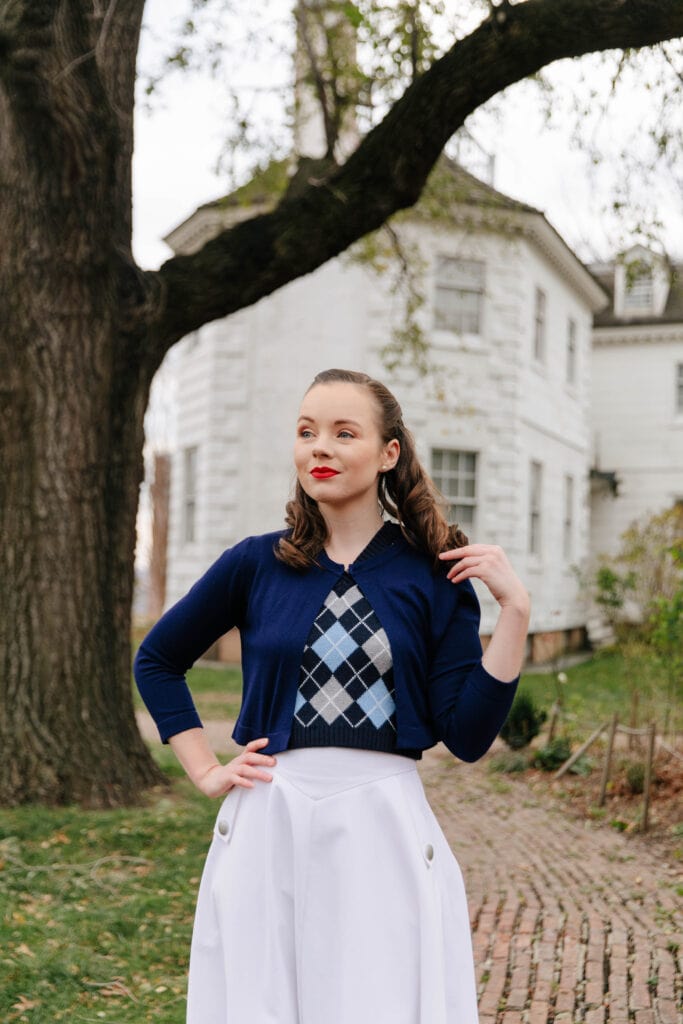 Chevron sweater: I ADORE her chevron sweater and tried so so hard to find one! I ended up deciding to try to find a sweater with a preppy pattern of a similar complexity. I settled on this navy cropped argyle sweater.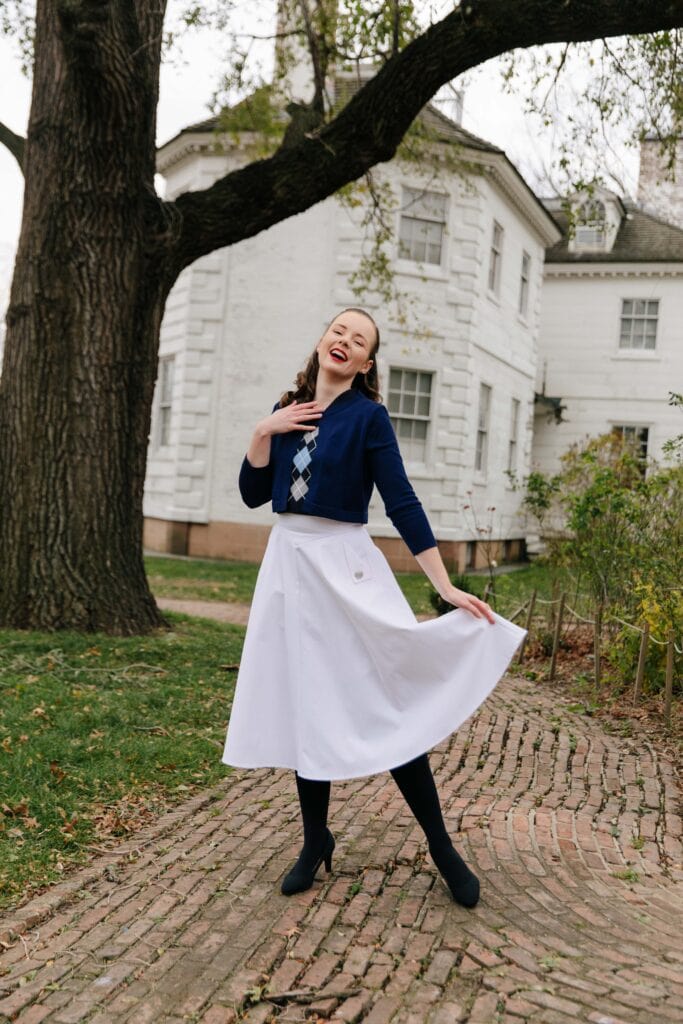 Plain skirt: It's hard to tell since she is sitting, but I gather it is probably a sheath skirt. I tried on several different gray sheath skirts without any luck. They were either too big in the hips or too big in the waist. (I sometimes struggle to find non a-line or full skirts that fit my hips and waist). To keep it neutral I grabbed one of the favorite basics, my white a-line skirt.
Finishing touches: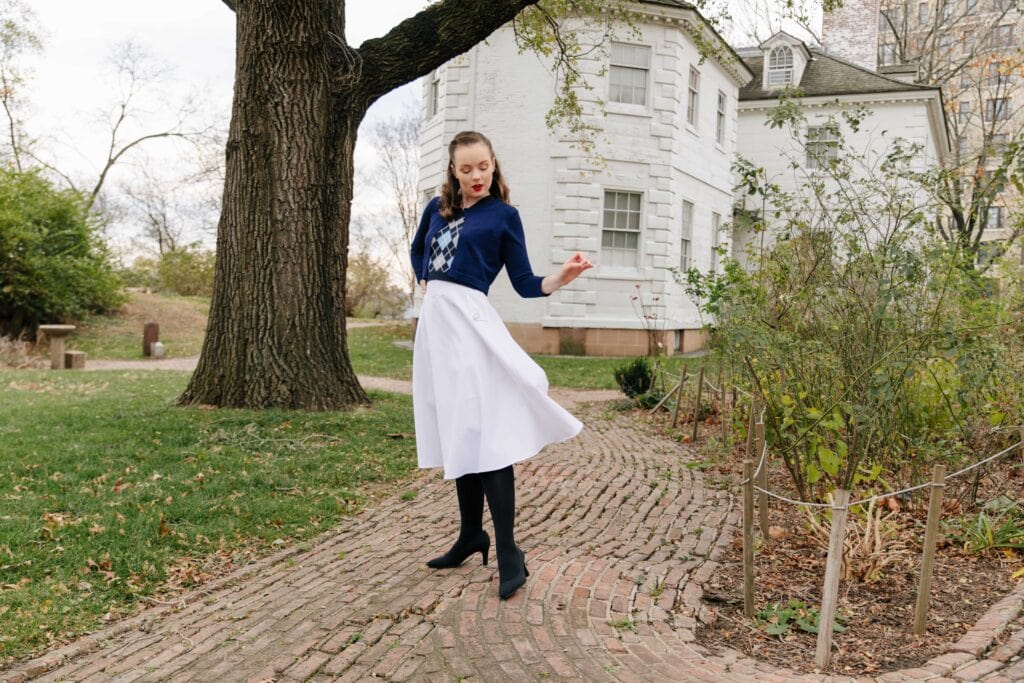 Hair: To match her half-up half curly hair-do, in a modern way, I curled my hair, twisted the sides and pinned them up.
Earrings: I am usually not the biggest fan of wearing big studs, like she is in the inspo photo. I wore my pearl earrings to just add a little sparkle.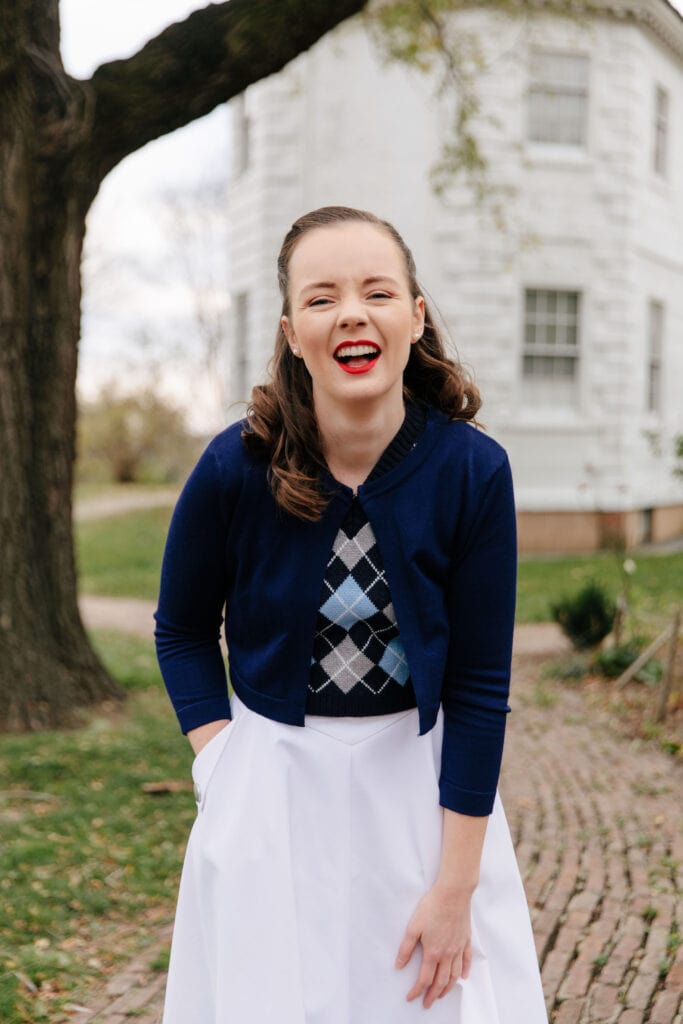 Outfit Details:
---
Photos by Allie Provost; pretaprovost.com